For a limited time, we are offering our new customers:
🎁 FREE Deluxe Set of Stroller Buckles
🎁 FREE Hypoallergenic Changing Pad
---
BabyStation™
🥇 Voted #1 Most Innovative Diaper Bag 

in 2020!



Specifically designed for busy moms and dads.
Our BabyStation™ is capable of storing all your baby's everyday essentials, better yet... it quickly expands into a clean, windproof, and comfortable bed when it's time for that precious nap or diaper change.
A must-have for new parents, whether you're enjoying a day at the park or at a friend's house, you and your baby will be ready for ANY situation, ANYWHERE!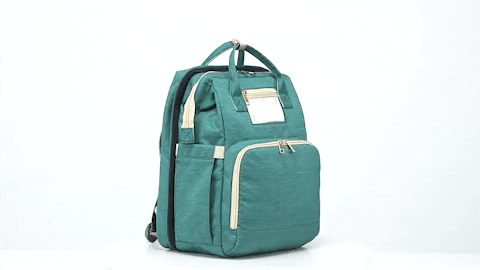 Set Up A Clean, Private,
and Windproof Surface,

Anytime

, and

 

Anywhere in seconds

!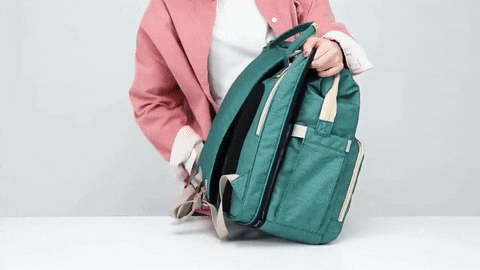 The BabyStation™ ALL-IN-ONE PREMIUM Diaper Bag has a unique fold-out section with privacy walls for diaper changes and can serve as the perfect little spot for your little one to take a nap.
No need to carry an extra bag on your next trip!
✔ Have everything you need at your fingertips.
✔ Carry all your baby's essentials in one bag with ease.
✔ You'll always be ready as a parent, no matter where or when.
✔ Neat and fashionable for both Dad and Mom.
★ A Versatile Diaper Bag ★
Our BabyStation™ Pro is designed to accommodate every new parent in a variety of situations. Use it as a spacious backpack, a baby crib, a diaper pad, or even a stroller organizer.

★ Stylish Yet Roomy ★
A sleek designer bag look yet we utilized the internal space to fit all of your baby's necessities very conveniently. Always have the essentials whether you're a jet setter or a stay at home parent. We got you covered.

★ Maximum Comfort ★
Wide, padded, breathable shoulder straps and backrest for extra comfort and support makes this one of the most comfortable-to-carry bags available on the market today. And when it's time to take the weight of your shoulders, The BabyStation™ Pro is easily attachable to your stroller with the included stroller buckles.

★ A Swiss Army Knife Design ★
Every feature is designed to make parenthood just a bit easier. We know you're very BUSY, even if it isn't your first time.
The Only Expanding Diaper Bag in the World!
Baby Crib

 

Mode
Not only can you carry all your baby's everyday essentials in this smart diaper bag, but you can also set up a baby crib/changing station in seconds!
Unzip the backside of the bag and instantly provide a clean, private, and windproof place to let your baby rest comfortably by your side when it's time for that precious nap, or to pull off a quick diaper change without worrying about germ-ridden public surfaces.
Premium

 

Quality
Premium, durable, water-resistant, and wipable. UV protected fabric to prevent color from fading over time. Extra protective anti-tear layer on the bottom side and double stitching for additional durability.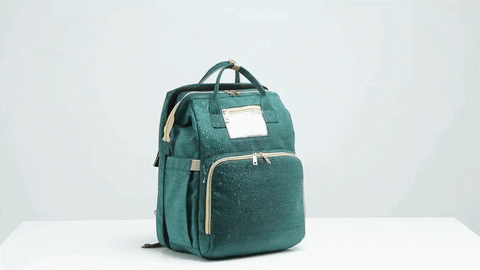 High

 

Capacity
With various different pockets and compartments built-in, separate bottles, clothes, towels, underwear, diapers, formula, and much more neatly organized for quick accessibility. Designed with thermal-insulated bottle holders, dedicated pockets for easy-access wipes, and compartmentalized large storage. Searching in your bag for what you need is a thing of the past.
Waterproof

 

Fabric
Designed with high-quality Oxford fabric, a liquid-proof material that is durable and breathable. Easily wipe away any spills or mishaps.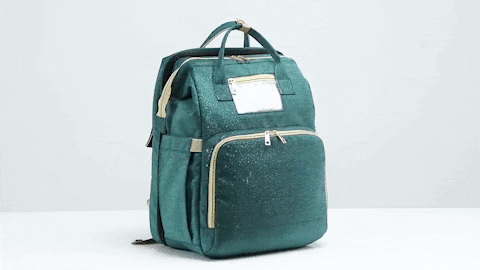 Safe

 

Pocket +

 

USB

 

Port
Store valuables in the anti-theft pocket and enjoy a worry-free time with your baby. 

Simply connect your power bank and you'll have an external power source to keep your phone charged all day long! (Power bank not included)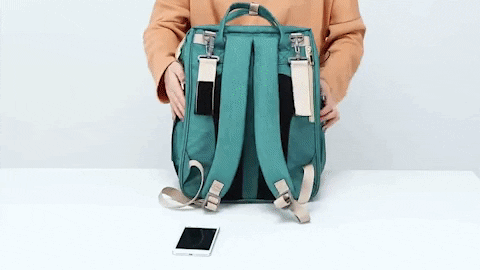 Wipe Dispenser

 

Pocket
A convenient side pocket allows storage and easy access to most flat and standard packs of tissues, diaper wipes, or antibacterial wet wipes.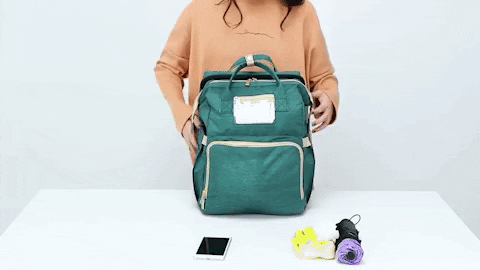 Multilayer

 Insulation
Thermal-insulation material and high-density EPE foam allow your baby's bottle temperature to be maintained over time. Suitable for a wide variety of bottles and sippy cups in different shapes and sizes.
Waterproof

 

Compartment
Conveniently store any wet clothes, diapers, or soiled items in a dedicated waterproof compartment.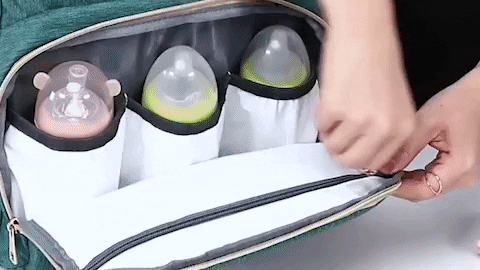 Lightweight

 

and

 

Ergonomic




ON-THE-GO Design
The bag is less than 3.3 lbs (1.5kg) and designed with wide, breathable anti-sweat support pads in the shoulder straps, and the backrest to ensure comfort in any situation.
Easily attach the BabyStation™ to your stroller with the included stroller buckles, to take the weight off your back.
Weight: 2.8 pounds (1.38kg)
Use it

 

Anywhere
Our BabyStation™ ALL-IN-ONE Diaper Bag is the perfect solution for your baby. You might be at a picnic, at the beach, or at an airport... no matter where you are, you'll always be ready as a parent.
Perfect Gift Idea 🎁
Voted the best gift for new moms and dads in 2020
Need a baby shower gift for an expectant mother or bestie?
Make it count!
It is a real pain to carry a separate bag and a changing bag for your baby... Solve this problem for them ahead of time and show them how much you care.
Any new parent will love our BabyStation™!
Order Includes:
✔ BabyStation™ ALL-IN-ONE Diaper Bag

✔ Deluxe Pair of Stroller Buckles 🎁

✔ Hypoallergenic Changing Pad 🎁
✔ HAPPY BABY = HAPPY PARENTS
Claim Yours Now
↓
40% OFF


FOR A LIMITED TIME ONLY
Be Quick To Take Advantage Of This Sale!
We have a limited quantity available.
SATISFACTION GUARANTEED
If something is wrong with your order, you can quickly contact our helpful customer service team to get a refund.
We have a 24/7/365 Ticket and Email Support.
Please don't hesitate to contact us if you need assistance.
---
FREQUENTLY ASKED
QUESTIONS
Question:
What age is the BabyStation™ suitable for?
Answer:
Our Premium Diaper Bag is suitable for most infants up to 9-16 months old, or until diapers are no longer needed.

Question:
How do I wash

 

the BabyStation™?

Answer:
BabyStation™ ALL-IN-ONE Diaper Bag is easy peasy to clean! The padding of the bag only requires wipe downs with a warm water cloth as it is waterproof, while the entire removable lining is machine-washable so you don't have to worry about spills, messes, or rough terrain. To clean the bag's interior, you can wipe over with a warm water cloth and baby detergent, then hang the bag to air dry.
Avoid alcohol-based products on the interior and exterior.
We do not recommend cleaning the whole BabyStation™ Pro in the washing machine. Still, you can steam clean the bag or take it to the dry cleaners.
Question:


Is the storage space bigger than traditional diaper bags?
Answer:
Our BabyStation™ is much larger than the traditional diaper bags. You can even use the baby crib pocket space for extra storage while traveling.

Question:
How long does it take to set up the baby crib?
Answer:
Once you've done it once or twice to get the hang of it, it will literally take you less than 60 seconds to set up and pack up.
Click Here to View Description
Click Here to View less
How soon will i receive my order?
Our team is working 24/7 to get your orders to you as fast as possible. Each order is processed within 24-72 hours. Estimated order delivery between 7-21 business days. Due to high demand for promotion items, please allow up to 2-3 weeks for your order to arrive at your doorsteps.
Where does my order ship from?
Our warehouses are located all around the world, so we can ship your product to you in the fastest possible way from the closest location.
How can I track my order?
As soon as we process your order, you will automatically receive your tracking number via the email you provided us during checkout. It will include instructions and a web link so you can always know the status of your order.
---
COVID-19
SHIPPING UPDATES
For more information,
please visit the links below:
Please note that in light of the current evolving situation with COVID-19, we want to let our customers know that we are currently continuing all delivery services as usual. Rest assured your order will be delivered to your doorsteps.
Stay Safe 💖